Flow Switch FA14B06-M12 ideal for low flows of viscous oil - 1/4"

G
ADJUSTABLE IN WATER @ 25°C (LPM)

CONTACT

min.
max.
ON

2.5
3.5
OFF

2.0
3.0
ADJUSTABLE IN OIL 68cSt @ 40°C (LPM)

CONTACT

min.
max.
ON

0.5
0.7
OFF

0.4
0.6
Overview
Description
The fluid flow causes the displacement of magnetic piston and closes the electrical contact of sensor (reed switch).
The Eicos flow switch FA14B06-M12 of 1/4"G port is ideal for low flows of oils. The sensor has an operation range that allows to adjust the ideal flow of liquid to be detected in application.
The sensor works Normally Open (NO), with ON signal when the flow (liters per minute) is higher that the sensitivity adjusted in the sensor and OFF signal when the flow decreases below the set point.
Output connection in male M12 plug (not included with sensor).
For water applications, see the model FA14B02-M12.

Liquids with magnetic particles will cause deposition/magnetic sedimentation and it will prejudice the operation of the sensor. Use magnetic filter before the sensor.
Liquids with encrustation particles and/or solids require tests.
Technical specifications
Body
PPA - Polyphthalamide
Internal clearance
8mm²
Maximum operation pressure
25bar
Operating temperature range
0ºC to 100ºC | 140ºC @1h
Inlet/outlet port
G 1/4" female

(BSP - Parallel)

Spring
AISI 302 stainless steel
Sealing
NBR (nitrilic rubber) O'Ring
Output connection
M12 male, 2 pins

(A-code)

Enclosure rating
IP66
Electrical contact
Reed Switch 20W/VA
Warranty
2 years
Switching Voltages
| Operating Voltage | Max. switching power | Max. switching current |
| --- | --- | --- |
| 110Vac | 20VA | 0.2A |
| 220Vac | 20VA | 0.1A |
| 5Vdc | 2.5W | 0.5A |
| 12Vdc | 5W | 0.5A |
| 24Vdc | 10W | 0.5A |
24Vac: Use with Schneider relay coupler model RSLZVA1 or equivalent.
Relay coupler (110Vac-220Vac): Use 4K7 10W resistor in series.
Mounting
Mounting
!
Beware of EXCESSIVE force to which the sensor will be submitted in its installation.
FLOW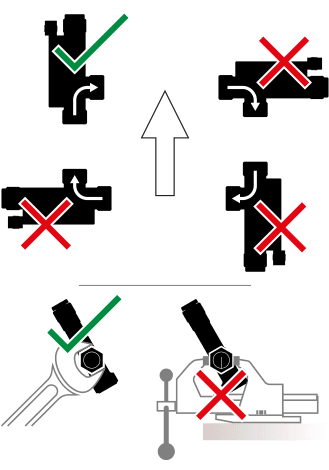 Dimensions (mm) and weight
Sensitivity adjustment
75g
Scale
Inlet fittin
Outlet fittin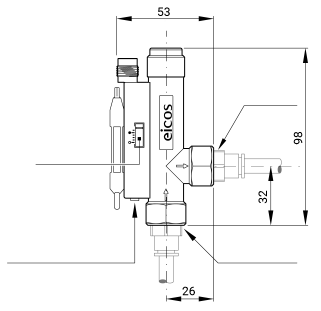 Sealing
O'Ring (NBR) for sealing
Parker code 2-111
(included)
Typical connection to contactor and electrical connection
AUXILIARY CONTACTOR (mini contactor)
Check the distance:
Direct connection
to the sensor
Use 22R 5W
resistor in series
Use
24Vdc voltage

Snubber
Filter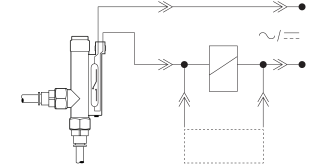 Installing the snubber filter extends the lifespan of the sensor's electrical contact.
!
Never connect the sensor directly to a motor, pump, lamp or any other load over 20W.
Always use a contactor or relay.
M12 male connector 2 pins
M12 female connector
Flow Switch
1-BR
3-BL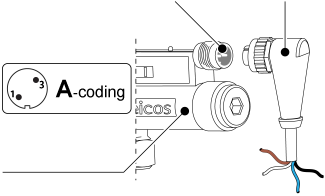 | | |
| --- | --- |
| Switch | NO - SPST |
| Output | Contact ON/OFF |
| Enclosure rating | IP66 |
Maintenance
Open the plug, remove the spring and clean using a nylon brush if there is encrustation;
Mount the sensor again as illustrated bellow:
Plug
O'Ring
Spring
Piston
Allen Wrench 12mm
Scale
Brush
M12 conector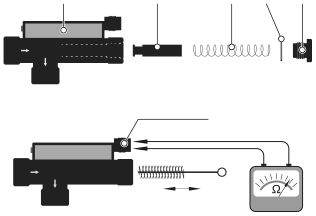 Troubleshooting
DIAGNOSIS

ACTION

1) The electrical contact keep on closed WITHOUT flow.

Check if there si overload;
Test with an ohmmeter;
Open the plug and check if the piston is not blocked.

2) There is flow and the electrical contact remains always open.

Adjust the sensitivity;
Check the electrical contact with an ohmmeter;
Possible overload that damaged the electrical contact.
Photos & Videos
Examples of Electrical Schematics