KD Snubber Filter
for electrical connection of Eicos sensors
Discontinued product
Contact our sales department to check the availability of the product in stock.
Phone: +55 15 3032 9190
E-mail: sensorx@xeicosx.xus
Overview
Technical Specifications
Eliminate the electrical noise caused by switching of the coils.
For coils with power: < 80W
Voltage: 0...24Vdc
Weight: 6g
Mounting: Double-sided tape
Housing: Epoxy resin
Current: Direct current (DC)
Application: Contactors and command relays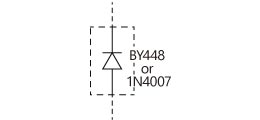 Mounting
Wiring Diagram
Filter KD mounted in parallel with the coil of a DC relay, increase contact life.