K8 Snubber Filter
for electrical connection of Eicos sensors
Discontinued product
Contact our sales department to check the availability of the product in stock.
Phone: +55 15 3032 9190
E-mail: sensorx@xeicosx.xus
Overview
Technical Specifications
Eliminate the electrical noise caused by switching of the coils.
For coils with power: < 8VA
Voltage: 0...220Vac
Weight: 7g
Mounting: Double-sided tape
Housing: Epoxy resin
Current: Alternating current (AC)
Application: Contactors and command relays
Contactors and command relays Eicos flow switches to be used as reed switch protection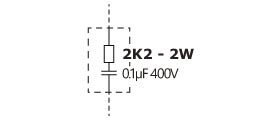 Mounting
Wiring Diagram
Filter K8 mounted in parallel with the coil of an AC contactor, increases the contact life.